Hannah Hodges is one of Dallas' most stylish locals. As an assistant buyer at Stanley Korshak, Hannah is always in the know when it comes to the latest and greatest in fashion. When Hannah isn't working away, she's planning her winter wedding! I know that Hannah's upcoming nuptials will be just like her style – classic and super chic. Read below to hear more about this bride-to-be.
Winter Must-Haves: Number one is a great party outfit! I love Sachin & Babi because you get a couture look without the couture price tag. I am enjoying the over-the-knee boot trend while it lasts, but I always love a great black ankle bootie. It never goes out of style, and it can take you from day to night in an instant. Also, a great pink blush! I love the Chanel tweed blush in fuchsia.
Favorite Winter Color: Camel. It is always sophisticated and versatile.
Best Part About Planning a Wedding: Everything! My favorite part is getting to plan with my mom and sister. My mom recently retired, so it has been a fun project for us – plus they both have great taste. Now that we have the reception and ceremony venues nailed down, it's pretty smooth sailing- at least for a while! I LOVE my Jenny Packham dress…. It is very unique and vintage inspired. She is a London-based designer who is only carried in a few stores in the USA and exclusively at Stanley Korshak in Texas. Also, having a huge sweet tooth, I am looking forward to all the cake tasting. Morgan Wilson, the pastry chef at the Ritz Carlton, was recently on "Top Chef: Just Desserts"- so I am especially excited to sample his cakes!
Color Theme? I chose eggplant, emerald, and terracotta. I wanted to pick colors that were warm and fall appropriate since we are getting married in November. Dark purple looks great on everyone and is a great alternative to navy or black, which is why I chose beautiful chiffon Amsale dresses in eggplant for my bridesmaids (also from Stanley Korshak). Since each of my bridesmaids has their own unique sense of style, I let them choose which style gown they wanted to wear. I wanted everyone to be comfortable in the dress, and I thought it would add some character!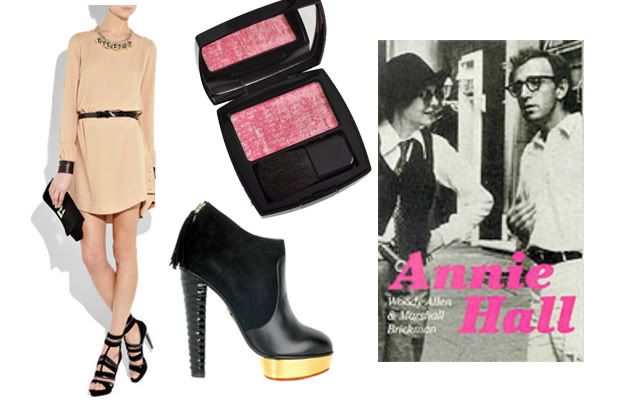 Most stylish movie of all time: Annie Hall is a personal favorite of mine. Diane Keaton's character was really the first woman to make gender-bending fashion chic and defined women's fashion in the late 1970s. This look continues to reinvent itself over and over and is still relevant today. Also, To Catch a Thief…does it get any better than Grace Kelly and Cary Grant?
Best piece of fashion advice you have ever received? Buy clothes that fit you! If it does not fit – get it altered. Nothing looks better than a well-tailored outfit.
Dream possession: A get-a-way in the Bahamas where Walker and I can fly fish for a few days then just relax by the beach…everyone is happy! I also have my eye on a pair of brown Chanel riding boots.
Favorite Dallas restaurant: This is tough. Can I break it down by meal? Breakfast… Easy! A chorizo, egg and cheese burrito from the Taco Joint. Lunch….Grown-Up Grilled Cheese at Nick and Sam's Grill. Dinner… It's hard to beat the Oysters Rockefeller and Filet Mignon at Al Biernat's. Dessert…Pecan Ball at Café Pacific. I also like any restaurant where I can sit on the patio with my dogs.